In the 21st century, an MBA has become practically a prerequisite for upper-level managerial and leadership roles. Business school graduates often go into their MBA immediately, or enroll in an online program while working. But what about executives who work their way to a high level without an MBA? For busy working professionals, an Executive MBA – either in a low-residency or online form – can be the ticket to greater leadership skills and job market credentials.
In this section, we'll discuss the following topics:
What is an executive MBA program?
What is an executive MBA vs MBA?
Is an executive MBA worth it?
What is an Executive MBA vs MBA?
An EMBA is an executive master of business administration degree. These are typically two-year programs aimed at students with at least five years of experience in leadership roles. Most students in these programs have full-time jobs and attend classes in the evenings, weekends or on Fridays.
Executive MBA programs are typically much more intense than MBA programs. EMBA students often have much more experience than those in MBA programs. While online MBA students may also work full-time day jobs, many MBA programs are set up for full-time students to complete the coursework as quickly as possible.
By nature, EMBA students keep their day job and many attend programs sponsored by their employers. These programs make them more effective leaders and give them transferable skills, such as communication, leadership and technology innovation, that they can pass on to colleagues.
An Executive Master of Business Administration program has students who are much older than traditional MBA programs. The average student might be in their late 30s and have managerial experience. Prodigies, valuable executives, and other rock stars in the corporate world come to EMBA programs to learn new skills and become more effective leaders. They also learned the latest trends in business and may have the flexibility of learning at home on evenings or weekends. Executive MBA programs teacher fast-paced classes and provide networking opportunities for those with an established career.
Is an Executive MBA Worth It?
An EMBA takes a lot of time and effort to complete, not to mention the expense. Graduates who pursue this degree should understand what their career goals are post-graduation. If graduates plan to work in business related fields and go into management, the expense of an EMBA program may be totally justified.
Getting an executive MBA can help students strengthen their business skills. Students can focus on an area of concentration or concentrate on general business studies. EMBA graduates can boost their career with finance, strategy and leadership skills.
This degree also supports dedicated employees who need to gain confidence and competency in order to move into leadership roles. For those looking to change careers, an EMBA provides an intense walkthrough of all major areas of business and allows students to specialize in particular fields. Most students seeking an EMBA seek to break through the barrier in order to become managers at their current company or in another company after graduation.
An Executive MBA can open up new opportunities for those who want to teach business courses. After receiving an executive MBA, some students go on to get their doctorate in business administration. Some of these programs include study abroad options so that students can gain exposure to major business centers throughout the world, including San Francisco, Tokyo, Shanghai, London, France, and other cities around the world.
Here are some of the main reasons to get an EMBA:
Students can develop entrepreneurial skills. After participating in an executive MBA program, students widen their focus to include strategic thinking and an overarching view of the business. Entrepreneurship is a major area of focus in many online MBA programs. Becoming an entrepreneur requires a deep understanding of the business process. Coming from a unique perspective, entrepreneurs can learn how to create business plans, pitch their ideas and fight for venture capital.
Whether they attend online or on campus classes, students in an executive MBA program can build influential connections. Many programs have international flavor in the form of both faculty members and other students. From the moment students register, they joined hundreds or thousands of graduates all over the United States and possibly around the world. This is a great opportunity to learn how to interact with people from other cultures in a business setting.
Many students go through a phase of personal growth while completing their EMBA. Effective programs include mentors and coaching sessions that help students step back and take a look at their management skills and discover areas where they need the most personal growth. Through coursework and collaborating with other students, EMBA candidates must focus on decision making and leadership skills as well as building interpersonal connections.
What is an Executive MBA Worth?
A good EMBA program can cost tens or hundreds of thousands of dollars. However, degrees from top schools can help you get noticed by prospective employees and doctoral program admissions boards. EMBA programs are often taught by the most experienced professors in a college or University. This can help contribute to the value of the degree students earn, but it also may increase tuition rates to cover the costs of employing his academic prodigies.
The Executive MBA Council surveyed recent graduates of EMBA programs. It found that over half of these students received additional job responsibilities after completing their degree and nearly 40% received promotions. An EMBA program typically takes between two and three years to complete. So, that's an impressive accomplishment in a short period of time. This could be the result of the intense working environment of an EMBA program. This can teach students to manage time and make decisions more efficiently.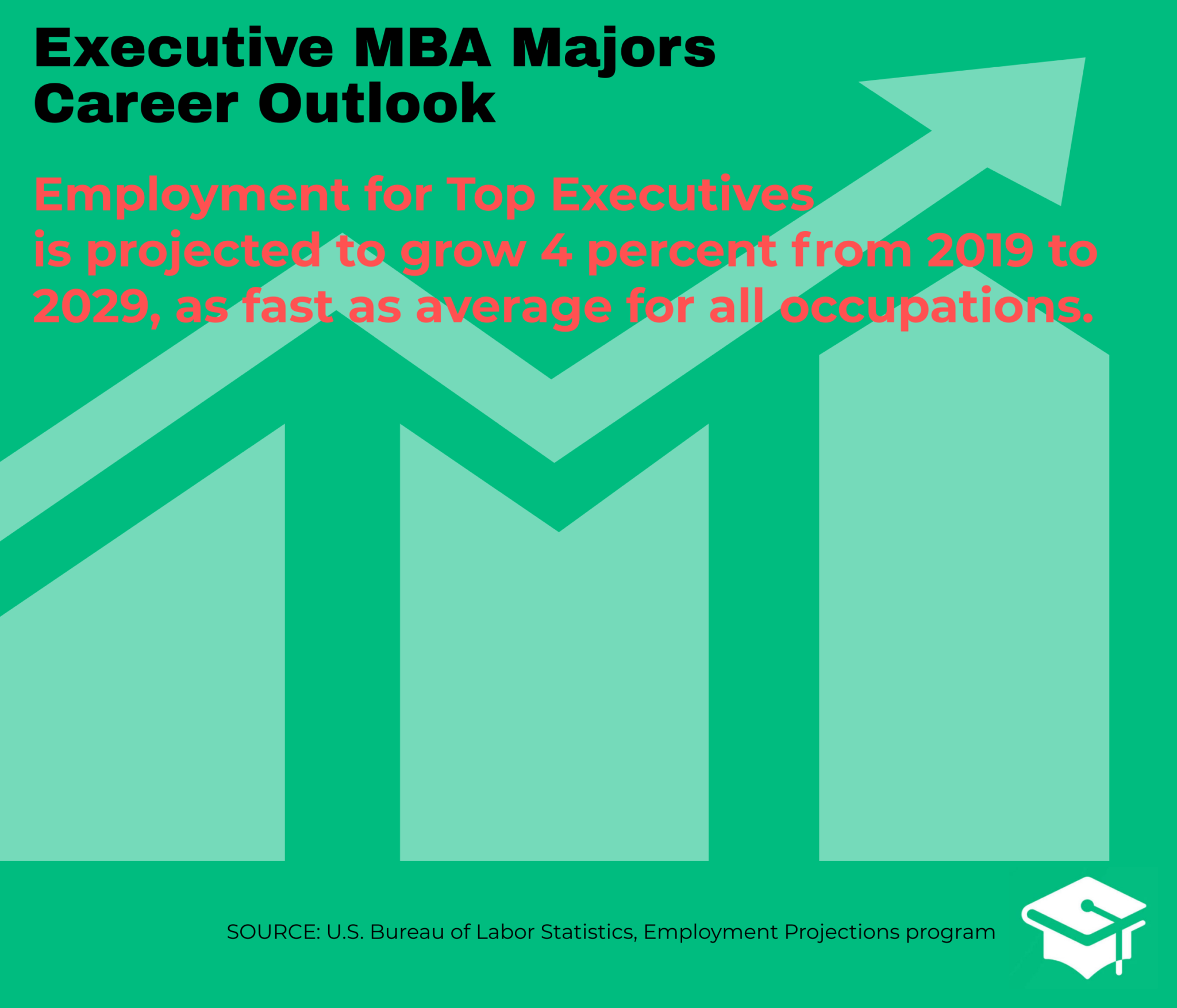 Accreditation for Executive MBA Programs
Online executive MBA programs accredited by national and regional organizations should also have the appropriate credentials from agencies that specialize in evaluating business schools. EMBA and MBA programs both use the same accrediting bodies.
Online executive MBA programs accredited by national and regional accrediting agencies can be found on databases maintained by the Council for Higher Education Accreditation (CHEA) and the U.S. Department of Education. The DOE governs education from a federal perspective, and this includes monitoring the accrediting agencies themselves. The DOE maintains a database of accredited schools, while CHEA is an advocacy group comprised of 3,000 universities and colleges. Many institutional presidents sit on CHEA's board, which works closely with the government and universities to help maintain a high level of academic excellence.
While national and regional accrediting agencies evaluate entire institutions, specialized accrediting agencies assess individual programs within an institution. The most prestigious business schools and MBA programs hold programmatic accreditation. Several agencies focus exclusively on business schools and MBA programs, and students considering an online MBA should always check the program's accreditation. Choose accredited online executive MBA programs that had national and regional accreditation as well as concentrations that meet your career goals.
Accredited executive MBA programs have credentials from the best accreditation groups in the country. There are several bodies that handle the evaluation of accredited online executive MBA programs, including:
ACSBP: This group concentrates on MBA and EMBA programs with a focus on research. Schools with this accreditation may attract students who want to pursue research-based roles.
AACSB: This organization only awards accreditation to top business schools. Students who receive a degree from an AACSB-accredited program attract the attention of selective employers and grad schools.
IACBE: This organization evaluates smaller business schools and ensure they carry out their stated program missions.
All three of these institutions provide valuable input for students looking for accredited executive MBA programs. An accreditation from IACBE, AACSB or ACSBP ensures that students will receive an education meeting the highest academic standards.
Types of EMBA Degrees
There are many types of MBA executive programs online that students can choose from. Typically, students should conduct research to find executive MBA online programs then align with their future employment goals.
Requirements for executive MBA program vary from school to school. However, most schools require high GPAs from undergraduate schools, professional and academic recommendations and a variety of other information that differentiates the student from thousands of other applicants.
Here is an example of Wharton's EMBA requirements:
Complete and submit online application.
Pay the application fee.
Schedule an interview and phone chat with someone from the admissions council.
Submit two recommendations online.
Complete three essay questions.
Provide the highest scores on standardized tests such as the GRE and GMAT.
Submit a letter from a sponsor.
Applicants should review the executive MBA requirement for each school. It's also important to allot enough time to complete the applications and review them thoroughly prior to the deadline. In order to qualify for many EMBA programs, students must have completed a bachelor's degree. Schools vary in their work experience requirements, but most prefer 5 to 8 years of work experience.
EMBA Specializations
An executive MBA specialization allow students to concentrate their electives in our particular areas such as marketing, finance or management. An executive MBA specialization can further enhance the resume of those pursuing specific executive MBA careers. Employers who invest in promising employees may also ask them to specialize in certain areas.
For example, students who work in finance and want to become leaders in their organization may qualify for corporate reimbursement programs that include an executive MBA. employers who pay for students' education may ask them to align their program with executive MBA career options at the company.
Career prospects after executive MBA depends on a number of factors, including location, work experience, and performance in the eMBA program.
Other students may be interested in an executive MBA career change. MBA executive jobs include crossovers to related departments. For example, a student who currently works in marketing may want to become a sales manager. In this case, the student can take a program that facilitates related executive MBA job opportunities.
Careers with an Executive MBA
After students spend a significant amount of money and time on an EMBA program, they will naturally want to look for MBA executive jobs with higher salaries. What prospects can a recent graduate look forward to?
Executive MBA job opportunities for Human Resource professionals include the following:
Sr. HR Manager
Recruiter
HR Business Partner
Senior HR Generalist
Training & Development Manager
HR Consultant
HR Officer
Director of HR
VP of Human Resources
Executive MBA job prospects exist in almost every business discipline, including sales, marketing and information technology.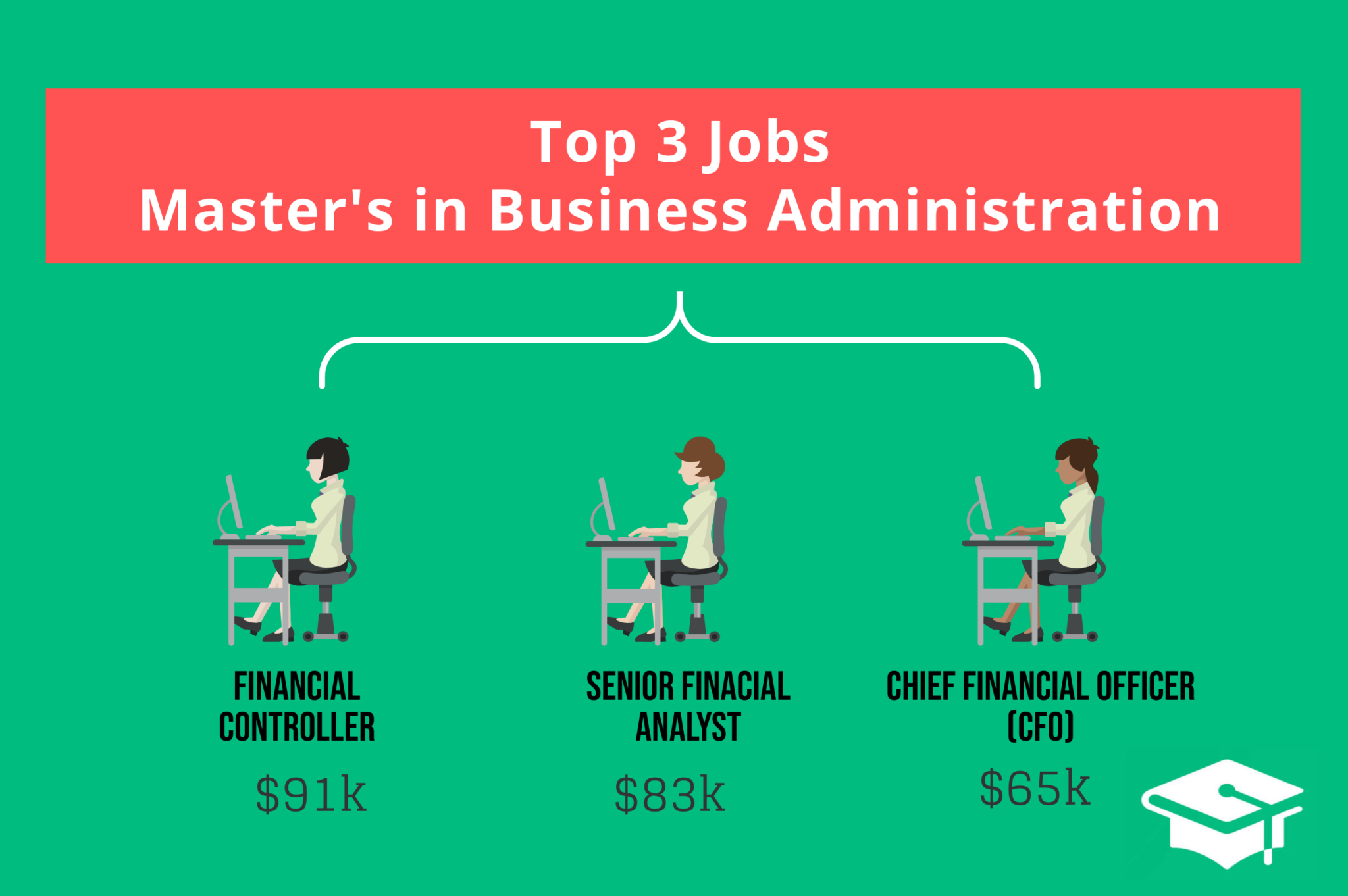 Executive MBA career opportunities in finance include the following:
Finance Manager
Vice President Finance
Financial Analyst
Financial Controller
Accounts Receivable Manager
Internal Auditor
Senior Financial Analyst
Senior Account Manager
Chief Executive Officer (CEO)
Administration Manager
Mortgage Loan Processor
Business Analyst
Executive MBA benefits and career impact in IT includes moving into lucrative roles, such as:
Senior SAP Consultant
Management Consultant
Senior Project Manager
Internal Auditor
Quality Assurance (QA) Specialist
Business Analyst, IT
Administrative Manager
Business Development Manager
IT Manager
Lead Software Development Engineer (SDE)
Business Analyst, Software
Senior Test Engineer
Consultant
An executive MBA career can often take routes that students would never have dreamed of. There are many crossovers between sales and marketing and IT and finance, for example. A career after executive MBA can open up for each student. However, graduates must be flexible enough to take on new responsibilities and adopt a work attitude of continuous learning.
Executive MBA job prospects often require students to take on positions of increasing responsibility. Therefore, prior to beginning a program, students should examine executive MBA career opportunities to ensure the in line with their work-life priorities.
EMBAs aren't just for finance and IT leaders. Executive MBA career options include operations and other departments vital to any corporation. Employees who want to take advantage of executive MBA career change opportunities should also consider careers in business operations. Executive MBA careers in operations include the following career prospects after executive MBA:
Operations Manager
General Manager
Project Manager
Business Process Consultant
Chief Executive Officer
Business Consultant
Data Analyst
Inventory Control Manager
Technical Operations Manager
Senior Business Analyst
Vice President (VP), Operations
Career opportunities in marketing abound for EMBA graduates. You may want to consider the following career after executive MBA choices:
Business development manager
Management consultant
Brand manager
SEO Manager
Sales representative
Social media coordinator
Media planner
Product Manager
Head of digital marketing
Chief Marketing Officer (CMO)
Sales Manager
Executive MBA career opportunities often have a steep learning curve. A rigorous program can help you prepare for jobs with increasing responsibility and the need to understand how business processes develop in a new department.
Executive MBA benefits and career impacts extend to students looking to make a significant career move. A huge motivation is taking on new challenges, especially for students who have been in the same position for a number of years and are looking for a change. Changing job functions, industries and even cities may appeal to adventurous students who graduate with an executive MBA.
This degree can help working professionals gain the tools and confidence to change their company or start their own business. For students looking for a valuable addition to their resume, an EMBA will surely make them stand out and pay for itself in years to come.
EMBA Salary Expectations
When considering executive MBA vs MBA salary, payscale.com provides valuable perspective. The average salary for a graduate with this degree is $118,000. Chief executive officers make an average of $380,000 per year while chief financial officers make around $207,000 per year. As a vice president of operations, graduates can make $156,000.
The number of years spent in a particular field impact the starting salary that graduates can expect. It also varies with students who work in larger cities making more than those working in smaller towns and cities.
Mid-level position such as the director of operations command around $122,000, and an executive director could make $122,000 per year.
These are just some of the MBA executive salary prospects that students should consider when comparing an executive MBA vs MBA salary:
| | | |
| --- | --- | --- |
| Career | EMBA | MBA* |
| CFO | $155k | $151k |
| Marketing Director | $124k | $113k |
| Operations Manager | $85k | $79k |
| Senior Financial Analyst | $83k | $83k |
| Human Resources Manager | $79k | $72k |
Professional Organizations for Executives
There are many professional organizations for students who graduate with an executive MBA, these include the following:
Professional organizations are a great way for students to learn more about the real world of work in the industry they wish to advance in. Even experienced business professionals such as most executive MBA students can gain from interacting with their peers across the country and across the globe.
You don't have to wait until you complete your degree to join a professional organization, especially since most organizations have discounted or free membership for students. Joining at the student level can provide access to changes within the industry that will affect students when they graduate.
An EMBA allows students to broaden their knowledge and their current field or switch careers midstream. Students should consider the credentials of their school including making sure that it is accredited by the appropriate agency.
Warren Dahl
Editor-in-Chief
Ready to find the perfect business program?